H Frame Battery Cage for Layer Farm>
Model NO.: H840
Color: Galvanized
Tiers: 4 Tiers
Usage: Chicken
Transport Package: Suitable for Ocean Transport
Origin: China
Condition: New
Type: Breeding
Material: Galvanized Steel
Trademark: POULTECH
Specification: 840*625*500MM
HS Code:
H FRAME BATTERY CAGE FOR LAYER FARM

CAGE SYSTEM

-Designed to be strong against earth movements. Main construction of the cage system consists of the legs which are located in every 84cm lengthwise, and the wide based connection units with adjustable bolts. Section side walls are produced of galvanized wire and galvanized steel sheets which will be fitted together in factory before shipment.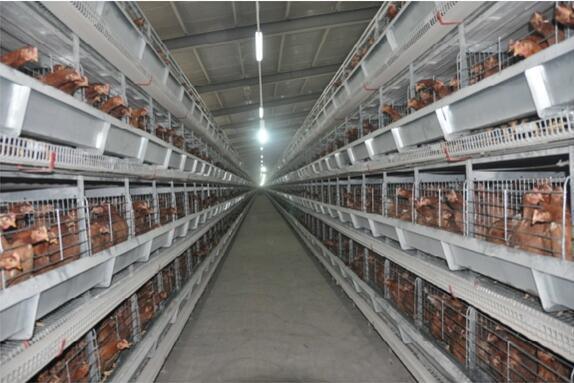 AUTOMATIC DRINKING SYSTEM

-Water drinking system is consist of sqaure shape pipe, nipple drinkers which is made of plastic and stainless steel in red color. In each section and the bottom are equipped with V shape plastic drop catcher. 2 or 3 nipple dirnkers for each two cage sections on the PVC pipe. The regulator is located on each tier and each row of the cage, also equipped with medicator and filters to clean the water and keep the health of all chickens.

AUTOMATIC FEEDING SYSTEM WITH FEED SILO

-Feed is distributed automatically to the feed carts from the feed silo by the spiral augers located in a pipe with 90-150mm diameter. Feed carts are moved by steel cables. Feed troughs are specially designed in order to distribute the feed in equal to reach tier and to prevent the feeds to be scattered outside the feed trough.
AUTOMATIC EGG COLLECTING SYSTEM WITH EGG CONVEYOR

-With the elevator lifting system, the eggs are collected from each tier and transported to the requested place and distance. Our system can be turned 90+90 degree with bends, egg cracking is prevented without any transmission and system can be adapted easily for egg collection and grading machine. Special brushes are also placed end of all lines to clean egg belts.

AUTOMATIC MANURE REMOVAL SYSTEM WITH CROSS MANURE BELT

-Manure is cleaned and discharged by the PP manure belt of 1.1mm thickness. This stronge and robust construction is operated without problem even in very long hen houses. A cover has been placed at the back of manure belts to avoid splashing and not to make dirty hen house and transfer the manure to the conveyor as dandy.
AUTOMATIC CLIMATE CONTROL SYSTEM

-Made up by the different panels. The system works at outside temperature maximum 36 degree and 30% humidity, at that conditions coop inside, temperature wil be 28-30 degree.