I took the lead in realizing the industrialization of plant gene activators>
After long-term research and exploration, Chongqing scientists have adopted the latest gene control theory and original patented technology to develop a multi-component, multi-functional newest high-tech product - plant gene activator, and applied for a patent for invention to solve industrialization. The global problem of production.

Plant gene activators can induce full expression of disease resistance genes in plants, enhance plant immunity, resist disease, resist stress, increase yield, improve crop quality, solve phytotoxicity, and increase drug and fertilizer efficacy. Chongqing Science and Technology Development Co., Ltd. has won a lot of knowledge, and the scientists, doctors, and returnees who have the courage to climb high-tech frontiers have overcome this problem.

According to reports, the plant gene activators they developed have entered the stage of industrialization. Its products have been applied to more than 100 species of plants such as longan, Jincheng, cotton, soybean, rice, and strawberry in over 20 million mu of farmland in more than 20 provinces and cities including Qinghai, Fujian, Hebei, Sichuan, Guangdong, and Liaoning. It shows that the plant gene activator has excellent efficacy in promoting high yield and stable production in agriculture.

The Chinese Academy of Agricultural Sciences applied the plant gene activator to Jincheng with a summer shoot control rate of 86%, yield increase of 25%-50%, vitamin content increase of 17%, and sugar content increase of 18%. The plant protection institute of the Qinghai Academy of Agriculture and Forestry has proved that the wheat damaged by the phytotoxicity is sprayed with the plant gene activator and the phytotoxicity is relieved and the growth is normal. In Tianjin and Zhejiang high-salty mudflats, the germination rate of corn and cotton seeds impregnated with gene activators was 40% to 80% higher than that of unseeded corn and cotton seeds.

Fujian Province is the main place of origin of Pomelo in China and it is also one of the main exporter country in the world. Fujian Province has a suitable climate and fertile soil are suitable for pomelo growing. Fresh Pomelo is of good quality, aromatic in taste, moderately sweet and sour. Pomelo is rich in trace elements, sugar, vitamin B1, vitamin B2, vitamin C, vitamin P, carotene, potassium, etc. It is also rich in medicinal and health care value. Having fresh pomelo is very good for healthy.Our company has obtained the GAP certification,we can supplying USA, Canada, Russia, Ukraine,Indonesia and etc. We also have flexible payment terms to meet different clients' requirement.

Except Pomelo,we also supplied Fresh Ginger , Fresh Garlic , Fresh Onion , Peeled Onion , Fresh Chestnut , Sweet Corn , Fresh Taro , Fresh Potato , Fresh Baby Mandarin, Fresh Red Grape, fresh pomelo, Fresh Ya Pear Chaotian Chili, Paprika Powder, Fresh Apple and so on.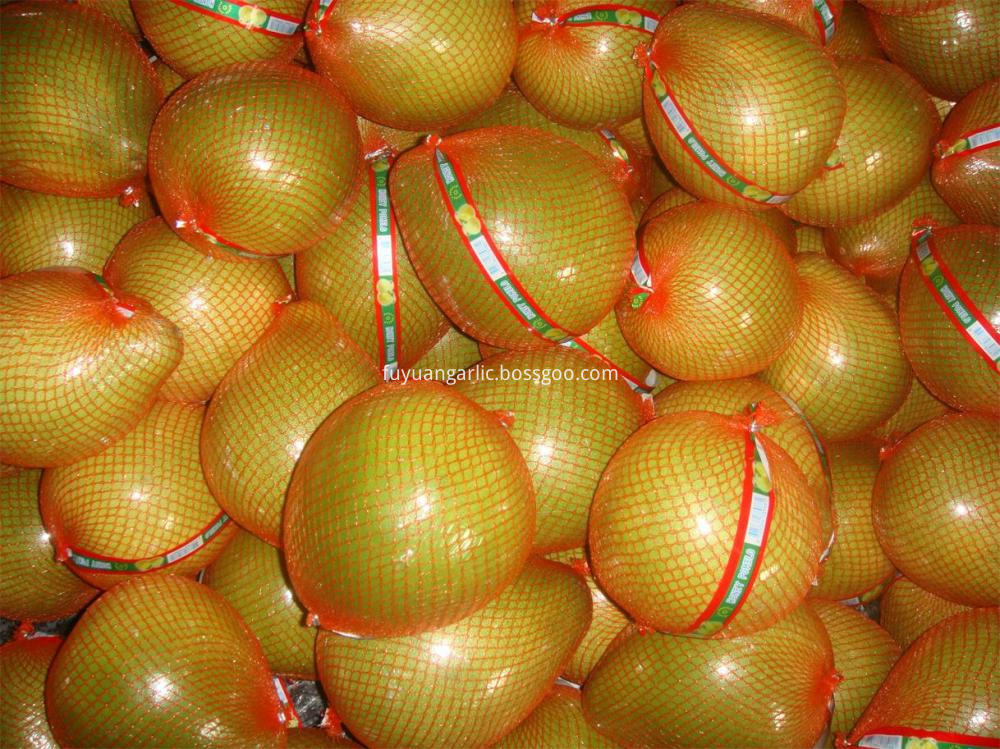 Fresh Pomelo

Fresh Pomelo,Green Pomelo,Fresh Honey Red Pomelo,Red Pummelo

Jining Fuyuan Fruits And Vegetables Co., Ltd. , http://www.fuyuanfv.com